Evolution Series
InnerSoul Transportable Folding Sound Massage Tables
The Evolution of Sound Tables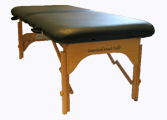 Our New Site is "User and Mobile Friendly"
Click here to go to InnerSoulutions.com
"Hi Stephen, Your bed (Transportable Sound Table) is tremendous! I love to lay on it while playing some frequencies and listening to a meditation, often I will fall into a really deep sleep, and wake up feeling rejuvenated. My family, friends, and clients that have experienced the bed also really like it! I definitely feel that I made the right choice purchasing from you."
Candice, CA - www.asoundlife.com
Transportable Folding Table w/ Stereo Amplifier:- Click Here to Order from our New Site
The advanced technology transducers in all of our Sound Tables
are considered by many as the best vibroacoustic transducers made.
With these advanced technology transducers the vibrations in the table are
incredibly accurate and smooth. They are highly reliable and produce very little heat,
unlike inexpensive transducers found in most sound tables. Laying on one of these tables,
you become one with the music and vibration in a way not possible before.
The vibration is delivered so cleanly that the brain interprets the stimulus as
Sound, not Shaking. The Sound is felt from 10 hz to nearly 1000 hz and
a full spectrum of audio is heard.
Imagine ... would you rather be putting the vibrations into your and your clients body from that
car that you can hear and feel coming blocks away (old style transducers) ...
or from a full spectrum Symphony?
The cells of our bodies 'sing' to each other, a form of intracellular communication,
and do it most effectively in the range 100 to 1000 Hertz
(from the he work of James Gimzewski of UCLA, California).
For more thoughts on this, click here.
Transducer positioning in each of our custom built tables is individually determined using the
PHI ratio or Golden Mean in combination with sound nodes in the diaphragm of the table.
Does this make a difference? Our experience says YES!!!

Check out the feedback from our clients.
Our custom built Sound Tables have been used in Spas and by individual massage therapists
on five continents since the 1990's. For more information, please see this article in
Spa Review Magazine
Our Tables are also excellent for VAHT - Vibroacoustic Harp Therapy®
and Sound Therapy




Provided with the InnerSoul Transportable Table are your choice of
4 of our VAT (Vibroacoustic Therapy) Frequency CDs.
Choose from the Pain Management, Human Body,
Muscle & Structural or Energy and Balancing Series of
VAT Frequency CDs and
our Vibroacoustic Music CD "Counscious Flight"
For more examples of Vibroacoustic Music -Click Here
Your Sound Table includes a profesional stereo reference amplifier
to control the Transducers in your Sound Table.

Sound Tables need an amplifier (included) and a sound source (or two) such as a CD player,
Ipad or other tablet, Ipod or mp3 player, Iphone, Android phone, laptop or desktop computer, etc.
Your Sound Table allows you to feel the sound throughout your body as well as producing audible sound which wraps around and cocoons you. It does not have to be loud for you to feel it (although it can be loud if you like). The setup can be as simple as your Sound Table, an amplifier and an Ipod. Your system can grow over time. Headphones, while not necessary, can be used to isolate you when you are on the Sound Table - so you aren't interupted. A Stereo or Surround Sound system may also be used in conjuntion with your Sound Table. We have experience with many different configuations and can share our expertise, if you ask.
Transportable Folding Table w/ Stereo Amplifier:Click Here to Order from our New Site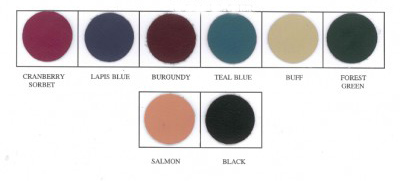 Teal Blue is no longer available.

Adjustable Face Rest - included
Please allow 2 1/2 - 3 weeks for us to finish your Sound Table.
If you are in a rush, please give us a call.
We may be able to accommodate you.
1 716 524 2349
Shipping for the Transportable Folding Table with Amplifier is $100 ($140 w/ Audio Packages) in the US.
Click here to see accessories for your Sound Table.
You can also check out the FAQs.
We use Schenker for shipping to Europe and the Far East.
If you have questions about which table is best for you, please do not hesitate to contact us.
Questions? Call us at 1 716 524 2349 or

Email: stephen@vibroacoustic.org
Transportable Folding Table w/ Stereo Amplifier:Click Here to Order from our New Site
InnerSoul Sound Table Feedback
YES, the table is fabulous. The vibrations are powerful but not shaky, they are smooth and rolling.
Michaela, CA
Hi Stephen, Your bed (Transportable Sound Table) is tremendous! I love to lay on it while playing some frequencies and listening to a meditation, often I will fall into a really deep sleep, and wake up feeling rejuvenated. My family, friends, and clients that have experienced the bed also really like it! I definitely feel that I made the right choice purchasing from you.
Candice, CA - www.asoundlife.com
"Table has arrived and it is everything I expected and more. Great job, a work of art for sure!!! I set it up last night and tried it out myself. It is a much more comfortable table than the table I used when I took my sound healing workshop. I love the fact that the sound is independent of the vibration unlike other tables also.
Q - What type of bodywork / modalities do you do and how does the sound table help you do that work?
A - I am a licensed massage therapist who specializes in Myofascial Release, Craniosacral Therapy, and Visceral Manipulation. I also use various tuning forks for soma body balancing. I am finding a huge difference in the amount of time I have to wait for the fascial system to soften while a person is on the table. Much more is accomplished in an hour session and my clients who have been with me long before I had the table are very aware of the difference in there sessions."
Cape Cod Myofascial Release Studio Kathleen Silva-Tanguay LMT
"I can't say enough good things about this table. It is very good quality and the customer service has been great. Thank you so much for creating it." and 2 years later -
" I have done fascial type bodywork for 15 years now, but I have only introduced the (tactile) sound table in the last two. The difference has been nothing short of miraculous. Restricted tissue seems to just melt in half the time it used to take before the vibration of the table assisted me. Using the sound table to release restrictions in the body is like having another therapist in the room working with me. I am able to accomplish twice as much in one session as I did before. Clients notice the difference as well."
Patti Schippani, Owner of Soma Advanced Body Therapy in Merrimack, NH and
Golden Touch Massage Therapy in Nashua, NH , Chairperson of the Massage Therapy Board of Advisors in NH
"The table is beautiful!! I love it! It is everything and more you said it would be. I have not the words to compliment you adequately.
It has not been that often in our lives we receive everything we ask for in a product or purchase. You have exceeded our expectations with your beautiful sound table!! ...
and later ...
"The sound table has been wonderful just as you said it would! I have had very good results from every patient I have seen. I use Olav's frequencies on everyone plus the music through the table and the speakers. Everything sounds so nice. Wonderful!!"
Linda , Lake Wales, FL
"Just got the table and I have to say I am very impressed.......worth every penny of the price. Got it set up and have already been on it for a while and it is great."
Tim, Houston, TX
"Still enjoying my table immensely. Most people who have tried the table really feel quite good afterwards. I go to someone who uses the Dreamweaver and Somatron mat, but I prefer your table. I am not sure why, but I just feel so much better on it. I think it is more comfortable and the vibration just feels better."
Jeanette, MA
"Without exception the clients tell me that the experience of the massage is felt on a deeper level. The sound penetrates the body in a subtle way and generates a feeling of deeper relaxation. Oh and on a side note, I gave a massage with the vibroacoustic frequencies to the actor Danny Glover (Lethal Weapon/Color Purple) who is now in Namibia for a movie. He enjoyed it greatly."
Ludo, Annica Spa, Namibia, Africa
"Aloha Stephen! The table is working great!!! We love the table and have been working with it testing different instruments, CDs, etc. Doug has been making test CDs with different Hawaiian slack key tunings for us to test. It's a wonder-full experience!! Mahalo and a hui hou."
Sandy & Doug, Hawaii
"It has helped increase my client base for starters. Beyond that, it has helped reduce the amount of effort I once had to use, simply because my patients are so relaxed by the time that I finish the preliminary aspect of the massage, the rest of their body is so ready for what's next."
Christina, FL
"It is amazing! Thank-you, Thank-you, Thank-you. Also your instructions were so easy, I had it set up in no time."
Dr. Nance MacLeod, Ontario, Canada
"I've been meaning to send you an e-mail and let you know how thrilled I am with the table. It is wonderful!! I love working with it, people love being on it and everyday I try to spend at least 30 minutes meditation time on the table. Thank you for the excellent craftsmanship. It was a total pleasure doing business with you. The table is one of my greatest joys in my practice."
Lisa, TX
"Received the table. Stephen, it is awesome!! I have no regrets."
Linda, TX
"I am very happy to have the sound table; it is the best/wisest investment I have ever made in my business. One of the benefits I experience when giving massage is that I don't have to exert as much pressure. The clients "let go" and relax so much quicker and deeper, so it makes my part easier."
Gail, AR
"My life has changed (since acquiring the sound table). It has opened realms for me to share many genres of music in a way that I have not before."
Jahsah, Sedona, AZ
"Good to hear from you. We are doing well. My table is still working great! (purchased in 2002) "
Mike, MO
"Received the table on Tuesday. It is awesome. Already have paying clients fighting to get on. You did a great job, thank you so much."
LeAnn, Fredericksburg, TX
"I purchased one of your tables and just wanted to let you know how much we love it. The business is doing very well, in fact there is a lady from Bonita Living Magazine is interested in writing an article on us and the table."
Christy, FL
"We have also received the bed (table) and really do appreciate the level of care and attention that was taken during the manufacturing process … I have to say we are very happy with the product."
David, Spa Illuminata, London UK
"I'd like to let you know that I'm having positive responses to the table. One of my clients came in with soreness in the left scapula area due to a pinched nerve. His sensitivity to touch made it difficult to find relief. I had him lay still and used your spinal frequency CD for the duration and it helped him to relax and improve ROM."
Dan, Ridgecrest, CA
"I work with a dear woman who's in her late 70's. She has a very progressive stage of Parkinson's. She is very uncomfortable due to uncontrollable shaking which gives her muscle cramps and fatigue and loss of balance and body control. Last week I could tell she had an attitude of defeat and all of her energy systems were not flowing well. I had her lie on the table and she relaxed immediately. I think the only relief she receives is on the table. Do you know that she never shakes at all when she's on the table! For that alone the table was worth the expense."
Kristin, TN

Disclaimer: Nothing on this web site is intended to diagnose, treat, or cure any medical condition of whatever nature, and shall not be construed as medical advice, implied or otherwise. Information on this site is intended to be for educational edification and use only.