From March 2009 Newsletter
Integrating a Mixer into a VAT Therapy Session using Frequencies combined with Relaxing Music in the Sound Table, Mat, Bed or Sound Chair
VAT - Vibroacoustic Therapy
This article shows how to use a small mixing board to mix the sound levels of Music and Frequencies in your Sound Table, Mat or Chair for VAT Sessions. The addition of a small mixer gives you much greater control of frequency and music levels, creating a more enjoyable and effective experience for your client. It also allows you to play whatever music you like along with the Frequencies.
We created many Frequency CDs including a Pain Management Series, Human Body Series, Muscle & Structural Series and Energy and Balancing Series. To see our Frequency CDs and MP3's, Click here.
For the purpose of this article I am using a Numark M2 mixer. It works great for this purpose.

1. Unpack your Mixer and set up per the manual. Plug in the AC power in the rear (1 Below) (Image A)

2. Plug the RCA patch cord that connects to your Sound Chair's Amplifier into the "Master Output" on the rear of the mixer. (2 Below)


3. Plug the RCA patch cord from your first CD player (Music) into the RCA plugs marked "Line - CH 1" on the mixer. (3 Below)


4. Plug the RCA patch cord of your second (Frequencies) CD player (or mp3 or other music source – not included) into the RCA plugs marked "Line - CH 2" on the mixer. (4 Below)


5. "Aux Line / Phono" switch for CH 1 and 2 should be at "Aux Line" unless you are using a phonograph. If you have more than 2 sources, you can use the "phono" RCA inputs for both CH 1 & 2. (5 Below)


6. A microphone with a ¼" input may be plugged into the MIC Input (6 Below)


7. Headphones can be plugged into the front of the mixer.


8. Power switch is in the back.


Switch everything on in the following order: Audio input Sources, Mixer and LAST, Amplifiers. Switch off in the reverse order.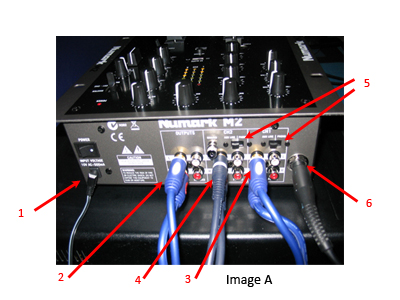 Operating your Mixing Board with your Sound Chair
1. Input Levels can be adjusted for the Music and frequencies input using the Gain knobs for each channel (1A).


2. You can adjust the 3 EQ knobs for both channels as you see fit to adjust Bass, Mid and Treble (1B).


The Phono / Line switch (1C) below EQ knobs will let you choose between 2 input sources that may be connected to each Channel (at rear – Line or Phono).


4. The Channel Fader (1D) for each channel adjusts the level that is sent to the mix or Sound Chair.


5. The Crossfader (1E) allows you to blend the audio from both channels into the Sound Chair. It also allows you to have either channel exclusively.


Set the levels in your Sound Chair using your Amplifiers front level control for the Frequencies so that it is comfortable (less is more). Then adjust the music in the mixer for your Sound Chair.


The level of the audio sent to the amplifier (and Sound Chair) can be adjusted at the "Master" knob (1H)


CF Slope (1F) should be to set to the left. CF Mode (1G) should be set to Normal (up)


If you are using the mixer for your headphones (we suggest you use your CD player if it has a "headphones out" port), adjust "Mode" to CH1 – CH2 (1J). The Gain will adjust the audio level of the the headphones and the "Cue Slider" will allows you to listen to just the music or a mixture of the 2 audio inputs.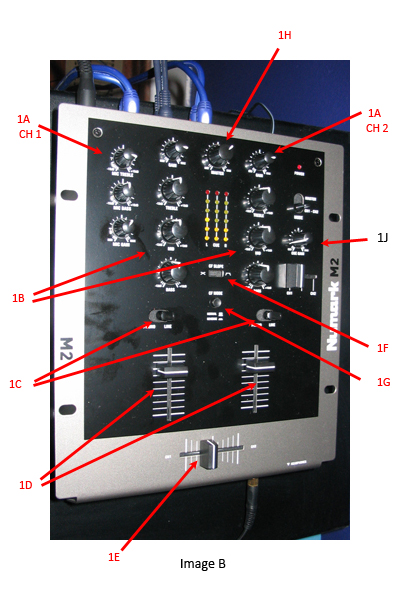 This is one of many ways to work with a Mixer interfaced with a Sound Table, Sound Chair or Sound Mat. Once you start with it you will find that it is quite easy and greatly expands the possibilities.
VAT Therapy sessions can be conducted with frequencies only. The VAT frequencies are not meant to be listened to in headphones.
By Stephen Deuel
Managing Director
Inner Soulutions LLC
www.vibroacoustic.org
Member of International Society for VibroAcoustics
Other How To Articles by Stephen Deuel:
Conducting a VAT Therapy Session using Frequencies in the Sound Table, Mat, Bed or Sound Chair in conjunction with Light Glasses and Headphones connected to a Light & Sound Machine.
Conducting a VAT Therapy Session using Frequencies in the Sound Table, Mat, Bed or Sound Chair with Relaxing Music delivered through Headphones from a second source.
---
Click here to go to our VAT Frequency MP3 and CDs page.
Home Sound Table orders and Pricing Page

Disclaimer: Nothing on this website is intended to diagnose, treat, or cure any medical condition of whatever nature, and shall not be construed as medical advice, implied or otherwise. Information on this site is intended to be for educational edification and use only.