InnerSoul Sound Chair ™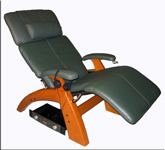 Ultimate Chair for Personal and Therapeutic Treatments.
"The Stress Buster"

Enhance Your Quality of Life
by simply sitting in your Sound Chair for 20 minutes per day.

In the Spa, InnerSoul Sound Chairs are excellent for reflexology or head massage as well as
a wonderful addition for your waiting room. Your clients relax in total comfort
as their tissue softens and nervous system calms down before bodywork begins.
In the Home, InnerSoul Sound Chairs provide style and comfort combined with new
Advanced Technology Transducers offering the most sophisticated sound delivery system
for reducing stress, alleviating physical pain and creating a space for deep meditation.
The Advanced Technology Transducers deliver the vibration so cleanly that
the brain interprets the stimulus as Sound, not Shaking and are the
heart of the InnerSoul Sound Chairs. The chair has excellent sound
and full body vibration and is a wonderful delivery system for
Vibroacoustic Music and Vibroacoustic Therapy. It works extremely well for
whole body vibrational treatments such as VAHT (Vibroacoustic Harp Therapy® ™)
and Sound Therapy.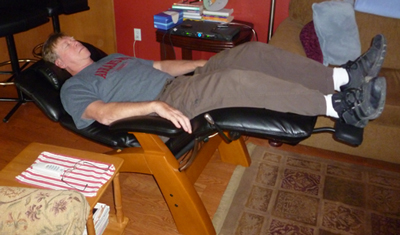 InnerSoul Sound Massage Chair - the sound gently permeates the cells allowing
massage from inside as well as out.
Classic furniture style with solid wood and leather construction that
fits into any office or home environment.
This sound furniture has soft, comfortable leather pads with memory foam standard.
The manual hand controlled reclining feature allows for easy gliding of your body
into the Zero-Gravity position at the touch of your fingers.
Great for listening to your favorite music or using healing Vibroacoustic frequencies such as our
Spinal, Oxygenation, Arthro, Osteo of other frequency CDs
I have been working with Vibroacoustic Therapy (VAT) for a number of years.
These Sound Chairs are excellent for VAT, especially for those that do not wish to lie down on a
Sound Bed or Table. They are really very comfortable, also."
- Stephen Deuel, Member of International Society for VibroAcoustics
and innovator of the InnerSoul Sound Chair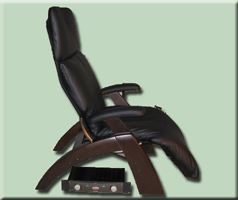 The advanced technology transducers in all of our Sound Tables and Chairs
are considered by many as the best vibroacoustic transducers made.
With these advanced technology transducers the vibrations in the chair are
incredibly accurate and smooth. They are highly reliable and produce very little heat,
unlike inexpensive transducers. Sitting in one of these chairs,
you become one with the music and vibration in a way not possible before.
The vibration is delivered so cleanly that the brain interprets the stimulus as
Sound, not Shaking. The Sound is felt from 10 hz to over 1000 hz and
a full spectrum of audio is heard.
Imagine ... would you rather be putting the vibrations into your and your clients body from that
car that you can hear and feel coming blocks away (old style transducers) ...
or from a full spectrum Symphony?
The cells of our bodies 'sing' to each other, a form of intracellular communication,
and do it most effectively in the range 100 to 1000 Hertz
(from the he work of James Gimzewski of UCLA, California).
For more thoughts on this, click here.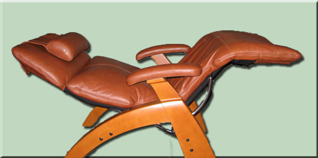 Zero Gravity Position




Provided with the InnerSoul Sound Chair are your choice of
4 of our VAT (Vibroacoustic Therapy) Frequency CDs.
Choose from the Pain Management, Human Body,
Muscle & Structural or Energy and Balancing Series of
VAT Frequency CDs and
our Vibroacoustic Music CD "Counscious Flight"
For more examples of Vibroacoustic Music -Click Here

An Excellent, impedance matched 4 Ohm Reference Amplifier included in cost.
Connect to your CD player, MP3 Player or computer
Memory Foam is standard in our Sound Chairs.

Click Here for options, pricing and to Order
Your Sound Chair requires a source for your music or frequencies.

The setup can be as simple as plugging your mp3 player into the amplifier,
turning them on, adjusting the volume and sitting down on your sound chair.

If can also be adapted to use soundboards for mixing voice, instruments, music and
frequencies from cds or computers, etc. as well as integrating Light and Sound machines.
We have a great deal of experience and are very willing to share what we know
so that you can accomplish what you desire with your Sound Chair.
Please contact us for current shipping rates outside the US.

$200 Amplifier allowance outside the US.
We will aid you in locating the proper amplifier
that is available to you locally. This insures the proper voltage
and saves you shipping and VAT costs.

Please allow 2 1/2 - 3 weeks for us to complete your Sound Chair.
InnerSoul Sound Chair
includes Amplifier and
Curbside Shipping in Continental US
Click for options, pricing or to Order
Check out our Sound Tables
You can also check out the FAQs.
If you have questions before or after you receive your Sound Chair, please call. One thing that sets us apart is that we are experts in the field and we will also answer the phone and discuss your questions with you. 1 716 524 2349
Email: info@vibroacoustic.org
-------------------------------------------------------------
Feedback
"I have assisted two (2) facilities purchase VAT Sound Chairs from Stephen. One place was a skilled nursing facility. The Director was looking for an alternative to medication for their Alzheimer residents as well as some of their folks who suffered from chronic pain. The second place was a day program for severely (physically and cognitively) disabled adults. On both occasions he delivered a superb product!
The chairs are extremely comfortable and provide a very clean Vibroacoustic experience. The fact that they are true zero gravity chairs further enhances the relaxation response for most people.
I have purchased products for facilities and for my use in a healing practice. Always, Stephen comes through with a great, well-made product. It is obvious the love and care he puts into each piece he makes." - Deb Wellmes, MA, ND
www.beechersynergy.com
-----------------------------------------------------
"A relaxing and calming experience (and who among us could not use a good stress buster?) This chair is fast becoming a treasure in our household--a true gem. Highly recommended." - Jessica, Massachusetts
-----------------------------------------------------
"The Chair exceeded our expectations, as we have found that we can relax so much you just let go of stresses to the point you start living in a more relaxed fashion. It's new level of relaxation I suppose. My husband uses it every day before he goes to work and has been having great business ideas come to him and comes up with different approaches in dealing with issues and resistance with people at work, so rather than coming home cranky about a situation he has turned it around to positive dealings.. He attributes the Chair to greater calmness and clearer thinking and become more visionary. He is a Chartered Accountant and so a mainstream type of person." - Julia, Australia
--------------------------------------------------------------
"My sound chair is exceptionally great. The quality of transducers as well as the accompanying amplifier is truly great. I especially appreciate the workmanship that flowed out of you and Deborah. The transducers placement - the way it is so well hidden inside that one can hardly tell where they are housed. It truly completes the vibrational transmission to the whole body very effective.
As for me, I use the chair mainly as a totally relaxed session of meditation. I put the chair in Zero gravity, and meditate in that posture for anywhere from 1 hr to 2 hrs. The posture and the quality of music that plays through the chair is so very effective in taking me to an altered state of consciousness which would otherwise be very difficult to achieve. I seem to be able to achieve that state much easier thanks to the chair. The quality of sound carried to the body, via the 2 channels is very pristine and totally relaxing.
I have had some of my friends who have difficulty falling asleep so relaxed that they simply drop into a relaxed sleep within the first 4 minutes and then 20 mts later when the VAM music ends they come awake and are totally flabbergasted that they fell into such a relaxed and quick nap mood. They simply adore the chair.
Thank you so much for the beautiful and professional quality with which you both have put this Sound chair together. More than the technology, the personal interest and care and concern that you both put to it makes the chair stand apart from all the brand names in the market. Both from a price and quality standpoint, this chair far outshines the foremost brand names. Believe me, I am some one who has researched sound chairs for 4 yrs and I am not saying it without a sound reason. To put it very simply, It really is a piece of Art.
Thanks you both so much. I am very grateful for the love, attention and care that went into it's making."
- Sundari A., TX
--------------------------------------------------------------
"Just thought I would drop you a line to let you know I received the sound chair. I have got it all set up and going – loving it ! Thanks so much for all your help. The delivery company was great." Julia, Australia
------------------------------------------------------------

Disclaimer: Nothing on this web site is intended to diagnose, treat, or cure any medical condition of whatever nature, and shall not be construed as medical advice, implied or otherwise. Information on this site is intended to be for educational edification and use only.