InnerSoul Hydraulic Lift and Stationary
Sound Massage Tables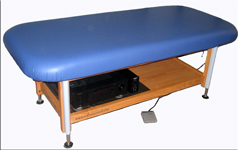 The Evolution of Sound Tables

The advanced technology transducers in all of our Sound Tables
are recognized as the best vibroacoustic transducers made in the world.
With these advanced technology transducers the vibrations in the table are
incredibly accurate and smooth - laying on one of these tables,
you become one with the music and vibration in a way not possible before.
The vibration is delivered so cleanly that the brain interprets the stimulus as
Sound, not Shaking. The Sound is felt from 5 hz to over 1000 hz and
a full spectrum of audio is heard.

The cells of our bodies 'sing' to each other, a form of intracellular communication,
and do it most effectively in the range 100 to 1000 Hertz
(from the he work of James Gimzewski of UCLA, California).
For more thoughts on this, click here.
Transducer positioning in each of our tables is individually determined using the
PHI ratio of Golden Mean in combination with sound nodes in the diaphragm of the table.
Our Custom built Sound Tables have been used in Spas and by individual massage therapists
on five continents since the 1990's. For more information, please see this article in
Spa Review Magazine
Custom Created
InnerSoul Hydraulic Lift and Stationary
Sound Tables are available in three models: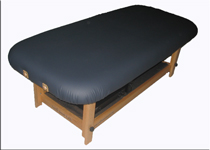 Evolution Series Sound Massage Tables
Custom Created Massage Tables designed to let you
Feel the Sound.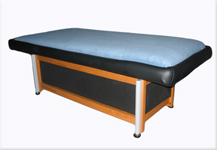 Tranquility Sound & Water Tables
Custom Created as a "Water and Sound" Table
designed to let you
Feel the Sound.
Please click on the links above for more information on each type of table.



Disclaimer: Nothing on this web site is intended to diagnose, treat, or cure any medical condition of whatever nature, and shall not be construed as medical advice, implied or otherwise. Information on this site is intended to be for educational edification and use only.